Violin Lessons in Bethesda and Potomac
Violin lessons at the International School of Music empower students by helping them form a deeper connection to the music they love and want to play. From J.S. Bach, to Antonio Vivaldi, Ludwig Van Beethoven, the Suzuki method, Movie/Broadway themes, Pop/Rock music, or even Bluegrass/Fiddle, a student can learn it all at the International School of Music. Our Violin teachers utilize multiple Violin method programs in their teaching, and can also utilize the Suzuki method if the parent or student desires. For those students interested in violin lessons in Bethesda, the International School of Music offers a comprehensive violin curriculum tailored to each student's individual needs, while focusing on core concepts and principles. Our violin teachers utilize elements of different teaching methods to find the ones that work best for each student. Beginning students start with the fundamentals, including correct bow hold and finger placement, rhythm, music notation, reading and learning simple songs. Intermediate and Advanced students continue to work on more advanced repertoire and interpretation, while they develop increased proficiency in bowing skills, scales and arpeggios in all keys and registers, sound production techniques, fingering, vibrato, position changes, dexterity, intonation, and musicianship. Suzuki and other method books are used in addition to recital repertoire to promote enjoyment, excellence and creativity. Whether playing solo, in a school orchestra, an audition orchestra, a rock band, or just for fun at home, students will receive a thorough Violin education in an environment of excellence and encouragement.  And, when you are searching for violin lessons near me, you'll note that we are only minutes away from students in Bethesda, Potomac, Rockville, Chevy Chase and Washington D.C.
Why take Violin Lessons with us?
With a large faculty and several teachers per instrument, we can find a teacher that fits each student's learning style, and his/her musical goals. All students have the opportunity to discuss their individual goals and learning styles with faculty and staff so they are assigned to the violin instructor best suited for them.
The International School of Music provides a comprehensive and robust music education. Violin instruction is offered in all genres from classical, jazz, pop, rock, to folk, blues, and other genres. Our music lessons are offered to students of all ages & levels in all instruments & voice including piano lessons, violin lessons, guitar lessons, viola lessons, cello lessons, voice/singing lessons, flute lessons, drum lessons and more. Group classes, ensemble/chamber classes, our flute choir, fiddle band, guitar ensembles, string quartets, and early childhood music classes round out the selection of experiences offered.
We offer month to month lessons, so there are no semester minimums. Our flexible scheduling allows us to schedule family members simultaneously to save families hours of driving. Additionally, we offer over 300+ group classes annually, so students can make up any missed lessons.
Violin Teachers
The most highly qualified violin teaching faculty in the Washington metropolitan area
Our violin teachers are dedicated to tailoring music lessons to your interests by learning about your personal musical goals and helping you achieve them.  Our violin instructors are graduates of prestigious institutions and have extensive experience teaching and performing.  And, when you are searching for violin teachers near me, you'll note that we are only minutes away from students in Bethesda, Potomac, Rockville, Chevy Chase and Washington D.C.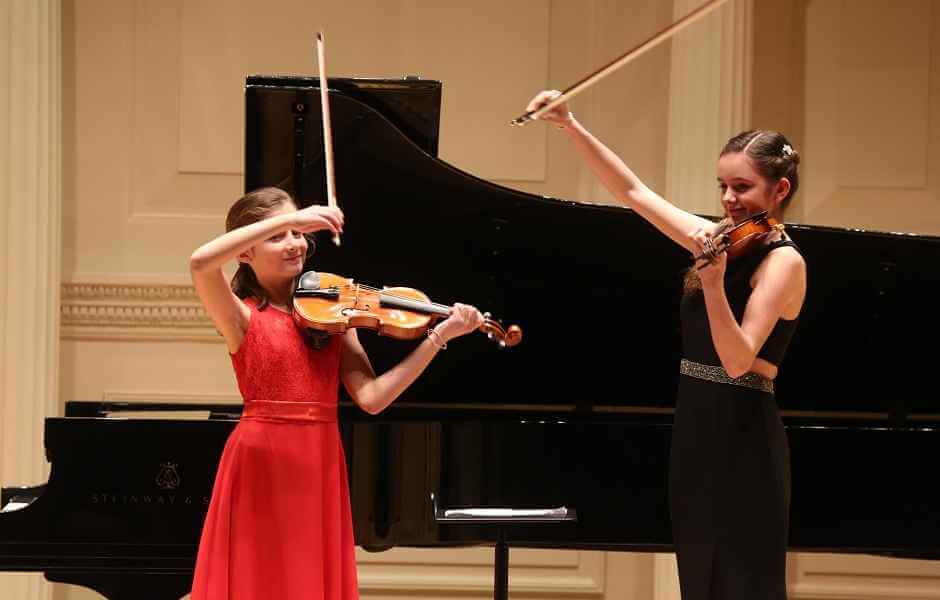 Violin Performances
Fantastic violin performance opportunities
Students interact with peers by participating in performances, festivals, concerts, and masterclasses with faculty and other visiting artists. Recitals, included in the tuition, allow each student to display their achievements. Our violin students have unique performance opportunities, such as our Carnegie Hall, NY Honors Recital, our Passport Concert Series, as well as our Ambassador Community performances.
Violin Curriculum
Charting students' progress through written evaluations
Optional violin evaluations contribute to our students' long term success and ensure that they progress.  Optional Certificate/Diploma Programs are offered by ISM both through its own program and by meeting the standards of ABRSM, ASTA, National Piano Guild, NATS, MTNA and many other national organizations.